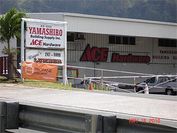 Yamashiro's Building Supply
45-552 Kamehameha Hwy
Kaneohe, HI 96744
Phone: (808) 247-2175
Fax: (808) 247-7870
Email:
ybs.hi@hawaiiantel.net
Mon - Fri 7:00 am - 5:30 pm
Sat 7:00 am - 5:00 pm
Sun 8:00 am - 4:00 pm Owner Mike Sen
Manager
Serving Kaneohe and Windward Oahu since 1965. Yamashiro Building Supply has hardware, plumbing, electrical, paint, concrete products, garden supplies and lumber. We have the largest selection of tools, power tools and outdoor power equipment on the Windward side. We provide paint color matching, key cutting and propane. We can cut most keys, including car transponder (computer chip) keys. We make keys for Acura, Chevrolet, Chrysler, Ford, GM, Honda, Infiniti, Lexus, Mazda, Nissan, Toyota, etc. Get your propane cylinders filled here. We fill LPG cylinders for BBQ grills, cooking stoves, water heaters, forklifts, etc. We fill your tanks with HD-5, the highest grade propane available for consumers. As a member of Ace Hardware we are committed to being "the helpful place" by offering our customers knowledgeable advice, helpful service and quality products. Located at 45-552 Kamehameha Highway, Kaneohe, we are open seven days a week.
Bosch
Bostitch
Clark+Kensington
Craftsman
DEWALT
Hitachi
Makita
Milwaukee
PORTER-CABLE
STIHL
Shindaiwa
Valspar
Sales associates are responsible for providing legendary customer service. They offer the solutions to the customers needs. Every Ace team member is expected to pledge to keep the customer first and foremost regardless of his or her job.
Cashiers exemplify the foundation of our service to each customer as they enter and leave the store. Every job within Ace ultimately impacts the customer directly or indirectly. Customers are the reason we are here; without them we wouldn't be.
ASSISTANT MANAGER (SALES)
The responsibility of the assistant manager (sales) is to focus on the customer while increasing sales and ensuring that all customers receive high levels of customer service. One must interview, train and monitor the progress of the sales associates and cashiers.