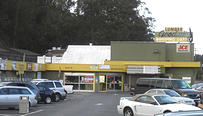 Goodman Building Sply Co
775 Redwood Hwy
Mill Valley, CA 94941
Phone: (415) 388-6233
Fax: (415) 381-5013
Email:
belinda@goodmanbuildingsuply.net
Mon - Fri 7:00 am - 7:00 pm
Sat 7:30 am - 6:30 pm
Sun 8:00 am - 6:30 pm

Richard Harris
Owner
Zviki Govrin
Manager

Martin
Store Manager / HR
Goodman Building Supply has been around since 1955, and in that time it's provided materials for countless houses and other structures throughout the area, as well as yards and gardens. It's one-stop shopping Mecca with over thirty-nine thousand items of inventory from home improvement, hardware, plumbing, electrical, lumber and gardening supplies and material. Over the years the store has evolved to what you see today. Homeowners and do-it-yourselves join seasoned construction and landscaping pros at the Mill valley location, and they make the trek for two reasons; the store has everything and the employee. Richard Harris bought out his partner to become sole proprietor, the company has grown, staffing up to 65 people. The building covers 25,000 sq. ft. Though Harris has retired almost 8 years ago, it's still very much a family business. His son-in-law, Zviki Govrin runs things on a day-to-day basis with the help of his management team-Martin Coleman and Phil Makai.
AS SEEN ON TV
BALL JARS AND SUPPLIES
BLACK+DECKER
Clark+Kensington
Clic Goggles
Craftsman
DEWALT
DOWN TO EARTH ORGANIC
E.B. STONE ORGANIC
FERN VALLEY SOAP
Glidden
Mrs. Meyers
NEBO
PINK RIBBON PRODUCT SELECTION
Rubbermaid
STIHL
SUN FROG
Scotts
Toro
Traeger
Valspar
Weber
Werner
YETI