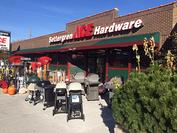 Settergren Hardware
5405 Penn Ave S
Minneapolis, MN 55419
Phone: (612) 922-6055
Email:
settergrenp@gmail.com
Mon - Fri 7:30 am - 6:00 pm
Sat 8:00 am - 6:00 pm
Sun 10:00 am - 5:00 pm
Mark Settergren
Owner
Carl McGrane
Manager
Settergren Hardware Furniture and undertaking was founded by Will and Gus Settergren in 1895, in Grove City/Litchfield. These stores were open until 1922. Two years later, Will asked Carl Settergren, Marks grandfather, to go into business. They opened Settergren Hardware on 27th and East Lake Street in 1924. In 1947, Dale and Carl become business partners at the East Lake store. In 1948, a fire destroys the store, but six month later they reopen. Carl stayed there until it closed in 1969. On September 1st, 1957 Dale and Phil opened Settergren Hardware on 54th and Penn. In 1986 Mark purchases Simms Hardware in Dinkytown. Four years later, Mark still worked at Simms, Mark and Dave Svobodny purchase Richfield Hardware on 54th & Nicollet, and changed the name to Diamond Lake Hardware. In 1995, Mark sold Simms Hardware, and Mark & Dave purchased Settergren Hardware on 54th and Penn from Dale & Phil. On Oct 29th, 2012 Mark & Dave opened there 3rd location Settergrens of Linden Hills.