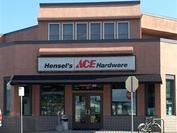 Hensel's Ace Hardware
884 9th St
Arcata, CA 95521
Phone: (707) 822-2965
Fax: (707) 822-8177
Email:
henselsacehardware@yahoo.com
Mon - Fri 7:30 am - 6:30 pm
Sat 8:00 am - 6:00 pm
Sun 9:00 am - 5:30 pm

Pat Anderson
Manager
Ceva Courtemanche
Owner
Mr. Robert Hensel originally began operation as a Marshall-Wells hardware store over 49 years ago. In the early 1960's, Mr. Hensel joined the Ace Hardware Group. In 1985, Pete and Shirley Hess purchased the store from Mr. Hensel. In January 2002, Pete and Shirley Hess joined Jerry and Ceva King to form a partnership in order to provide an orderly transition of ownership to the next generation of owners to serve the Arcata community into the 21st century. The King family continues to make Hensel's grow and meet the needs of the community. Years later Ceva and Jerry King bought Pete and Shirley Hess out of the partnership. In January 2010 Jerry and Ceva King allowed their daughter Ceva and husband Douglas Courtemanche into the partnership. Ceva Courtemanche is the VP of operations and like her dad and mom she continues to grow the business. Hensel's has recently opened a kitchen store, old fashoned candy store, furniture store and appliance Store.