HOLIDAY LIGHTS HELP
CHILDREN'S MIRACLE
NETWORK HOSPITALS®
Helping is easy. Follow these steps.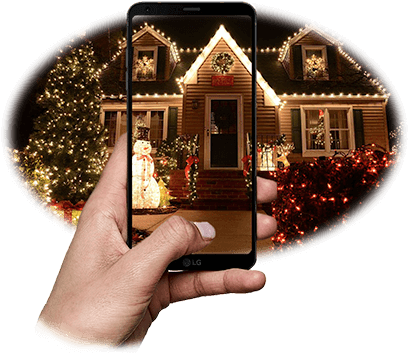 Step 1.
Snap a pic of your
holiday light display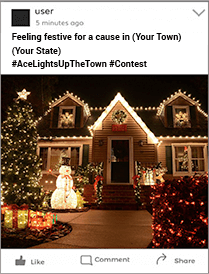 Step 2.
Share to social with
#AceLightsUpTheTown
and #Contest
(Include your town and
state in the caption)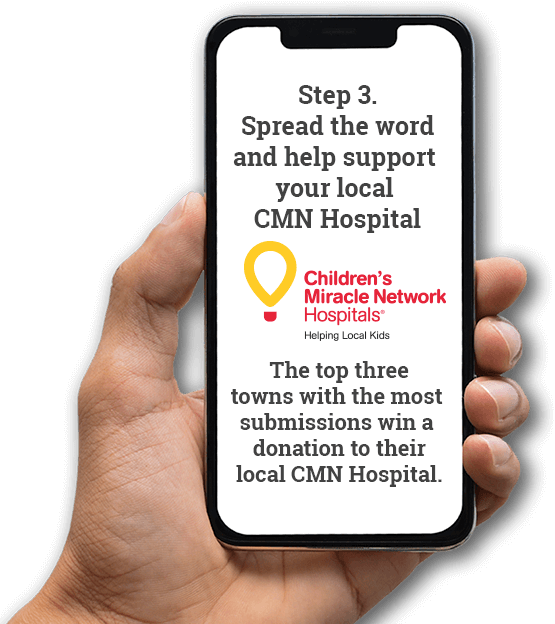 ACE® "LIGHTS UP THE TOWN" CONTEST OFFICIAL RULES
No purchase necessary. A purchase will not affect your participation in this Contest in any way, or the amount of the donation Ace makes to a Children's Miracle Network Hospitals ("CMN"). This program is in no way associated with Facebook, Instagram or Twitter. You understand that by entering you are providing your information to Ace Hardware Corporation for purposes of this Contest, and not to Facebook, Instagram or Twitter.
THERE IS NO PRIZE FOR INDIVIDUALS ENTERING THIS CONTEST. THE PRIZE IN THIS CONTEST WILL BE AWARDED EXCLUSIVELY TO CMN Hospitals.
Contest Overview: Ace Hardware Corporation, 2200 Kensington Court, Oak Brook, Illinois 60523 ("Ace" or "Sponsor") is sponsoring the Ace® "Lights up the Town" Contest (the "Contest") in which Eligible Entrants (as defined in Rule 2, below) upload a post (each a "Post") to their own Facebook, Twitter or Instagram social media platform (each an "Eligible Social Media Platform") that consists of a photograph (the "Photo") of their own indoor or outdoor holiday light display (their "Light Display") with a caption stating the city/town and state ("Community") in which the entrant lives and the hashtags #AceLightsUpTheTown and #Contest (the "Required Hashtags") between 12:00 a.m. Central Time ("CT") November 10, 2020 and 11:59 p.m. CT December 7, 2020 (the "Posting Period").The Children's Miracle Network Hospitals located in, or nearest to, the top three communities that have the most eligible Submissions (as defined in Rule 3, below) will be awarded the Prizes (as detailed in Rule 6, below). Note that your Light Display may have as many or as few lights in it as you want, but there must be a light in it to be eligible - this is not a contest about the quality or quantity of lights in your Light Display, and the light or lights in your Light Display may be old or new, purchased or borrowed (with permission).
Eligibility: To enter an eligible Post in the Contest, you must be a legal resident of one of the 50 United States or District of Columbia, age 13 or older, and have a valid Facebook, Twitter or Instagram account in your own name set to "unprotected" and/or "public" settings throughout the Contest Period, as defined in Rule 4, below ("Eligible Entrant"). If you are an Eligible Entrant but are a minor, you must have your parent or guardian's permission to participate. Facebook, Instagram and Twitter are free, but subject to each platform's terms of service. If you participate in this Contest using your wireless phone, message and data rates may apply. Please consult your wireless-service provider regarding its pricing plans. Contest is void elsewhere and where prohibited or restricted by law. Employees of Sponsor and any Ace retailers, and all of their advertising/promotion/internet agencies associated with this Program, and Children's Miracle Network Hospital (collectively, "Sponsor and Related Parties") are not eligible. All federal, state and local laws and regulations apply.
How to Enter. By completing the following steps and complying with these Official Rules, your Post will count as an "Entry" and the Community identified in your Entry will receive one "Submission" in the Contest:

Take a photo of your own indoor or outdoor holiday Light Display ("Photo"). (Posting photos of others indoor or outdoor displays could violate their privacy and/or intellectual property rights).
Include the city/town and state ("Community") in which you live in a caption with your Post.
Include these two required hashtags, #AceLightsUpTheTown and #Contest, with your Post ("Required Hashtags").
Post your Photo with your Community and Required Hashtags on your own Eligible Social Media Platform during the Posting Period.

Posting Period. The posting period begins at 12:00 a.m. CT on November 10, 2020 and ends at 11:59:59 p.m. CT on December 7, 2020 (the "Posting Period").
Contest Period. The Contest Period begins when the Posting Period begins and ends when the number of Submissions for each Community have been calculated and the Prizes have been awarded to the winning Children's Miracle Network Hospitals. Winning Communities/CMN Hospitals will be announced on Facebook, Instagram and Twitter.
Entry Limitations. Limit one Entry per person per eligible Social Media Platform during the Posting Period. Anyone found to be posting Entries beyond the Entry limit will be disqualified and none of their Entries will count toward their Community's Submissions. Sponsor is not responsible for any technical or other errors arising out of a Social Media Platform, the internet, telecommunications lines or any other sources. Entries or Submissions not in conformance with these Official Rules will be disqualified.
Entry Requirements: In order for your Post to count as an Entry and for your Community to receive a Submission, in addition to meeting all other requirements of these Official Rules, the Post must meet the following requirements:

The Post must be written in English.
The Lighting Display must be the Eligible Entrant's own Lighting Display from his his/her home, submitted with permission from any other party who may claim to have rights in such Lighting Display.
The Photo must be Eligible Entrant's own original and individual creation.
The Post must contain the Required Hashtags.
The Post must include the city/town and state ("Community") in which you live in a caption with your Post.
The Post must not contain any third party copyrighted or proprietary material or otherwise infringe on the intellectual property or other rights of a third party.
The Post must not include the identification of any individuals, living or dead, other than the Eligible Entrant (however, generic references to others, not by name, is acceptable; e.g., "my husband …", "my boss …", "my kids …", etc.).\
The Post must not have been previously entered, and may not in the future be entered, into this or any other contests or competitions, or have won any other awards.
The Post must not depict Sponsor and Related Parties negatively and be in keeping with Sponsor's desired image.
The Post must not mention any products that are competitive to or incompatible with Sponsor's products or services, and must not contain any commercial, political, religious, or other third-party advertising or messaging. The Post may mention Sponsor's products/services, provided it does so in a positive manner.
The Post must be suitable for general audiences and must not contain any of the following content: (i) defamatory words or statements, including words or symbols that are considered offensive to individuals of a certain race, ethnicity, gender, religion, sexual orientation or socioeconomic group; (ii) any lewd or sexually explicit suggestive content; (iii) any content that promotes use of alcohol, tobacco, firearms/weapons, or any violent, unsafe or dangerous behavior, activities or situations; (iv) threats to any person, place, business or group; (v) profanity or obscenity; (vi) any thing that would disparage or offend persons or organizations associated with Sponsor; (vii) anything which incites, encourages or depicts dangerous conduct, stunts or tricks, or behavior or acts that are unsafe, wrongful or immoral; or (viii) anything that violates federal, state or local laws and regulation.

Sponsor reserves the right in its sole discretion to not count any Post as an Entry or Submission if in its sole opinion that Post does not comply with these requirements or these Official Rules.
Prize. The Children's Miracle Network Hospital in or nearest to the Community that receives the most eligible Submissions in the Contest will receive a $7500 donation from Ace (the "First Prize"). The Children's Miracle Network Hospital in or nearest to the Community that receives the second most eligible Submissions in the Contest will receive a $5000 donation from Ace (the "Second Prize"). The Children's Miracle Network Hospital in or nearest to the Community that receives the third most eligible Submissions in the Contest will receive a $2500 donation from Ace (the "Third Prize").

In the event that there is a tie between three or more Communities for the most eligible Submissions received during the Posting Period, the CMN Hospitals in or nearest to each of those tying Communities will share in the combined total First, Second and Third Prizes for the Contest (resulting in multiple First Prize winners in a shared prize of $15,000) and there will not be a separate Second Prize or Third Prize awarded).

In the event that there is a tie between two Communities for the most eligible Submissions received during the Posting Period, the CMN Hospitals in or nearest to each of those tying Communities will share in the combined First and Second Prize pool for the Contest (resulting in two First Prize winners sharing $12,500, or $6,250 each), and there will not be a separate Second Prize awarded. The CMN Hospital in or nearest to the Community with the next most eligible Submissions will receive the Third Prize. If there is a tie between Communities that receive the next most eligible Submissions, the CMN Hospital in or nearest to those tying Communities will share in the Third Prize.

In the event that there is one First Prize winner, but a tie between two or more Communities for the second most eligible Submissions received during the Posting Period, the CMN Hospitals in or nearest to each of those tying Communities will share in the combined Second and Third Prize pool for the Contest (resulting in multiple Second Prize winners in a shared prize of $15,000) and there will not be a separate Third Prize awarded.

In the event that there is one First Prize winner and one Second Prize winner, but a tie between two or more Communities for the third most eligible Submissions received during the Posting Period, the CMN Hospitals in or nearest to each of those tying Communities will share in the combined Third Prize pool for the Contest.

In no event will Sponsor be obligated to award more than a total of $15,000 in connection with this Contest.
Announcement of Rankings. Sponsor may post the rankings for some or all Communities during the Posting Period, in its sole discretion, to generate excitement. Such rankings are non-binding, are subject to change, and do not guarantee any final results.
Sponsor's Right to Use Your Post. By uploading a Post with the Required Hashtags you hereby grant to Sponsor a non-exclusive license to copy, edit, reproduce, display, publish, distribute, revise, perform, license, sublicense, sell, exploit, creative derivative works from and otherwise use your Post, or any portion thereof, for advertising, marketing and promotional purposes on Sponsor's and the Related Parties own social media platforms/accounts and/or websites or in other media as determined by Sponsor without geographic, time or other limitations. In addition, you further consent to Sponsor's use (at its sole option) of your name, social media handle and likeness in connection with your Post, if submitted therewith. In addition, by submitting a Post with the Required Hashtags in this Contest, entrants agree to defend, indemnify and hold harmless Sponsor and Related Parties, and each of their employees, officers, directors, shareholders, agents and representatives (collectively the "Released Parties") from any and all claims, damages, expenses, costs (including reasonable attorneys' fees) and liabilities (including settlements), brought or asserted by any third party against any of the Released Parties, due to or arising out of the Post or Sponsor's and the Related Parties', or any of the other Released Parties', use of the Post as authorized herein, including but not limited to claims for trademark infringement, copyright infringement; violation of an individual's right of publicity or right of privacy; defamation; or other intellectual property rights. Entrants further agree to release Sponsor and all other Released Parties from any and all claims that any commercial, advertising presentation, Web content or any other material subsequently produced, presented, and/or prepared by or on behalf of Sponsor and any of the Released Parties infringes entrant's rights with regard to any elements, characters or ideas contained in any Post.
Miscellaneous Terms. This Contest is subject to all applicable federal, state and local laws. By participating, you waive any right to claim ambiguity in the Contest or these Official Rules. By uploading a Post with the Required Hashtags, you agree to release and hold harmless Sponsor and Related Parties, as well as the other Released Parties and Facebook, Twitter and Instagram, from and against any and all claims, damages and liability arising out of participation in this Contest. By participating in this Contest, you agree to be bound by the Official Rules and the Sponsor's decisions, which are final. In the event there is a discrepancy or inconsistency between disclosures or other statements contained in any program materials and the terms and conditions of the Official Rules, the Official Rules shall prevail, govern and control. Sponsor is not responsible for any typographical or other error in the printing of the offer, administration of the Contest. This Contest is in no way sponsored, endorsed or administered by, or otherwise associated with, Facebook, Instagram or Twitter. While you are uploading your Post to your own social media account, you are submitting your Entry/Submission to Sponsor and not to Facebook, Instagram or Twitter.
Notice. ANY ATTEMPT BY AN INDIVIDUAL TO DELIBERATELY DAMAGE ANY WEB SITE OR UNDERMINE THE LEGITIMATE OPERATION OF THIS CONTEST IS A VIOLATION OF CRIMINAL AND CIVIL LAWS, AND SHOULD SUCH AN ATTEMPT BE MADE, SPONSOR RESERVES THE RIGHT TO SEEK DAMAGES FROM ANY SUCH INDIVIDUAL TO THE FULLEST EXTENT PERMITTED BY LAW. Sponsor and Related Parties, and the other Released Parties, and all of their agents are not responsible and shall not be liable for: (a) any telephone, electronic, hardware or software program, network, Internet or computer malfunctions, failures, or difficulties of any kind, including without limitation, server malfunction or by any human error which may occur in connection with the Program or in processing of Entries and Submissions; (b) failed, incomplete, garbled or delayed computer transmissions; (c) late, lost, illegible, incomplete, damaged or misdirected Posts/Entries/Submissions; and (d) any condition caused by events that may cause the Contest to be disrupted or corrupted. By participating in this Contest, Entrants, participants, and winners (collectively "participants") all agree that in no event will Sponsor and Related Parties, or any of the other Released Parties, be responsible or liable for any damages of losses of any kind, including direct, indirect, incidental, consequential or punitive damages arising out of such participant's access to and use of an Eligible Social Media Platform, the downloading from and/or accessing, using or printing material downloaded from Sponsor's website or social media sites ("Sponsor Sites"). Without limiting the foregoing, everything on the Sponsor Sites is provided "as is" without warranty of any kind, either expressed or implied, including but not limited to, the implied warranties of merchantability, fitness for a particular purpose or non-infringement. Sponsor reserves the right to cancel, terminate or modify the Contest (each a "Contest Change") if no Entries are received during the Posting Period; if fraud, misconduct or technical failures destroy the integrity of the Contest; or if the Contest cannot be completed as planned for any reason, including but not limited to an unforeseen event ("Unforeseen Event") such as infection by computer virus, bugs, tampering, unauthorized intervention, technical failures or corruption of any sort, or force majeure event (including without limitation epidemic, pandemic, communicable, contagious or infection disease or public health quarantine that impacts the anticipated participation in the Contest). In such event Sponsor may (a) cancel the Contest entirely, (b) award the Prize based on Submissions received prior to the Unforeseen Event resulting in the Contest Change if sufficient eligible Entries have been received (as determined in Sponsor's sole discretion), or (c) extend the Posting Period to allow time for more eligible Entries to be posted. It is understood that an Unforeseen Event must take place for the Contest Change to be effectuated by Sponsor and that such Contest Change is not simply at Sponsor's option for any reason. In the event of cancelation, modification or termination, a notice may be posted on one or more of Sponsor's Sites. Proof of submitting Entries will not be deemed to be proof of receipt by Sponsor. Any use of robotic, automatic, programmed or the like methods of participation will void all such Entries made by such methods and by such entrants. Sponsor reserves the right to prohibit the participation of an individual if fraud or tampering is suspected or if the account holder fails to comply with any requirement of participation as stated herein or with any provision in these Official Rules. If there is a dispute as to the identity of an Entrant, the Entrant will be deemed the authorized account holder of the social media account associated with the Entry.
Legal: Except where prohibited by law, as a further condition of participating in this Contest, by uploading a Post with the Required Hashtags, Entrant or Entrant's legal guardian agrees that (a) any and all disputes and causes of action arising out of or connected with this Contest or any prize awarded, shall be resolved individually, without resort to any form of class action, and exclusively, by final and binding arbitrations under the rules of the American Arbitration Association ("AAA"); (b) the Federal Arbitration Act shall govern the interpretations, enforcement and all proceeding at such arbitration; and (c) judgment upon such arbitration award may be entered in any court having jurisdiction. Under no circumstance will Entrant or Entrant's legal guardian be permitted to obtain awards for, and Entrant or Entrant's legal guardian hereby waives all rights to claim, punitive, incidental or consequential damages, or any other damages, including attorney's fees, and Entrant or Entrant's legal guardian further waives all rights to have damages multiplied or increased. All issues and questions concerning the construction, validity, interpretation and enforceability of these Official Rules, or the rights and obligations of participants and/or Sponsor in connection with the Program, shall be governed by, and construed in accordance with, the laws of the State of Illinois, without regard for conflicts of law doctrine, and all proceedings shall take place in Cook County, Illinois.
Privacy: Sponsor's collection of information in connection with this Program, and use thereof, shall be governed by the terms of Sponsor's privacy policy posted at www.acehardware.com.