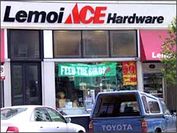 Lemoi Ace Hardware
1008 Davis St
Evanston, IL 60201
Phone: (847) 328-4900
Email:
info@lemoiace.com
Mon - Fri 8:00 am - 6:00 pm
Sat 8:00 am - 5:00 pm
Sun 9:00 am - 4:00 pm Ralph Lemoi Dupuis
Owner
Scott E.
Manager
Lemoi Ace Hardware is Evanston's oldest continuously operated business (founded 1895) and is still run by the same family, today embodied by Ralph Lemoi-Dupuis. Today, Lemoi Ace Hardware moves into the next century of service by providing a place where Evanstonians can gather electronically to talk about hardware, Do -it -yourself projects, gardening, painting or other projects that are undertaken by the residents and businesses of the Evanston area. Our staff members will monitor various groups and offer suggestions and assistance if and where needed - or as always, you are welcome to ask us in person at the store. Also, feel free to check us out on our website to get promotional news, special online specials, and to get the latest do-it-yourself tips.