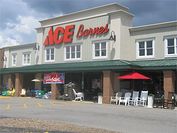 Ace Barnes Hardware Inc
2105 W Stadium Blvd
Ann Arbor, MI 48103
Phone: (734) 665-7555
Fax: (734) 665-7566
Email:
bridget@acebarneshardware.com
Mon - Fri 8:00am - 7:00pm
Sat 8:00am - 7:00pm
Sun 10:00am - 6:00pm Bridgett Barnes
Owner Kevin Nighswander
Manager
Originally located on Michigan Ave, in Dearborn, Michigan, the first Barnes Hardware was opened by Ted Barnes Sr. in 1939. Ted Sr. had moved to Dearborn from Pennsylvania to make it big in the auto industry but found his calling in hardware instead. In 1958, he moved the family and store to Ann Arbor, Michigan where Ted Sr. re-opened the store on Stadium Boulevard. Ted Sr.s two oldest boys, Ted Jr. and Robert joined the family business after they graduated from College. Soon thereafter Ted Sr. passed away and Ted Jr, and Robert became solo owners. In 1984 a second store was opened in Ann Arbor on Washtenaw Ave.. In 2004, Ted and Robert closed the doors of the original Ann Arbor location that their Father built and moved down the street to its current location which is still on Stadium Boulevard. Today there are second, third and forth generations of the Barnes family working in the store. Ted along with two of his children, Eric and Bridgett, are the current owners of the business.