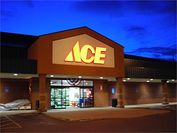 Ace Hardware
3602 Pacific Ave
Forest Grove, OR 97116
Phone: (503) 357-3164
Fax: (503) 357-3165
Email:
info@aceforestgrove.com
Mon - Fri 8:00 am - 6:00 pm
Sat 8:00 am - 6:00 pm
Sun 12:00 pm - 5:00 pm
Millers Inc
Owner

Mark
Manager
We are all committed to being "the Helpful Place" by offering our customers knowledgeable advice, helpful service and quality products. As the helpful hardware folks in your community, we promise that helping you is the most important thing we have to do today. From doohickeys to whatchamacallits we've got it in Western Washington County. State of the art knowledge and "stuff" with old fashioned service.