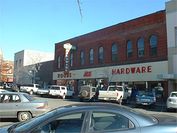 Woods Ace Hardware
310 N Pearl St
Ellensburg, WA 98926
Phone: (509) 925-2961
Email:
woodsace@elltel.net
Mon - Fri 8:30 am - 5:30 pm
Sat 8:30 am - 5:30 pm
Sun 11:00 am - 4:00 pm JOHN & NORM WOODS
Owner RYAN WOODS
Manager
ROBERT G. AND ORA WOODS OPENED WOODS HARDWARE FEB. 4, 1944 IN ELLENSBURG WASHINGTON IN THE 400 BLOCK ON NORTH PEARL STREET. JOHN F. WOODS AND ROBERT R. WOODS SOON JOINED THEIR FATHER AND MOTHER IN THE STORE. NORMAN (ROBERT R. WOODS SON) AND JOHN JR.(JOHN F. WOODS SON) JOINED THE OPERATION IN THE EARLY 70'S AND NORMAN'S SON RYAN WOODS CAME ON BOARD FULL TIME IN 2000. IN 1955 WOODS MOVED TO OUR PRESENT LOCATION AT 310 NORTH PEARL STREET. ON APRIL 13, 1965 WOODS HARDWARE BECAME THE FIRST ACE HARDWARE IN THE STATE OF WASHINGTON. RECEIVING OUR MERCHANDISE FROM ACE'S ONLY WAREHOUSE IN CHICAGO, IL. IT TAKES ABOUT 2 WEEKS TO RECEIVE IT. AS ACE HAS GROWN AND EXPANDED THEIR DISTRIBUTION WE ARE NOW ABLE TO OFFER OVER 65,000 ITEMS WITH A 3 DAY DELIVERY. IT IS OUR GOAL TO BE THE BEST HARDWARE STORE WITH SELECTION AND SERVICE FOR OUR FRIENDS OF KITTITAS COUNTY.