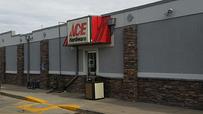 Offen Ace Hardware
1722 9th St
Greeley, CO 80631
Phone: (970) 353-1416
Fax: (970) 353-2356
Email:
offenace688@gmail.com
Mon - Fri 7:30 am - 6:00 pm
Sat 8:00 am - 5:30 pm
Sun 10:00 am - 4:00 pm Andrew Jones
Manager Bill & Chris Ruth
Owner
Offen Hardware opened in 1954 and joined Ace Hardware Co-Op in 1964. It is one of the oldest Ace stores in Colorado and has been owned by the same family since 1963. As part of the Ace cooperative, every Ace Hardware store is independently owned. As Greeley's Original Ace Hardware, we are a member of the largest retailer-owned hardware cooperative in the industry. Our neighborhood hardware store is unique and tailored to meet the needs of the our community. We are committed to being "The Helpful Place" by offering customers knowledgeable advice and helpful service with our staff totalling over 100 years of hardware experience. As the Helpful Hardware Folks we promise that helping you is the most important thing we to do today. There is no substitute for the service and assistance you'll get from our knowledgeable and friendly store associates. The moment you walk in the door, you'll know why we are Ace - The Helpful Place.
Clark+Kensington
Colorados Own Fertilizer
Friends of the Greeley Museum Potato Days
Potatoe Days is a fundraiser at Centennial Village each September. The owners of Offen Ace Hardware donate & cook in their Lodge Dutch Ovens Trail Beans & Fruit Cobbler at the Chuckwagon. They have served samples to as many as 1300 hungry folks.
Offen Ace Hardware has been a sponsor of the Grover Rodeo for over 30 years.
Wreaths Across America Greeley
Sponsor for placing Wreaths on Veterans Graves at Christmas Time
Jay & Sherrie Woods Foundation
Jay & Sherrie Wood's story is one of strength and hope, their need for financial aid for Jay to battle cancer and Sherrie to battle a brain tumor started a Foundation to support some of their out of pocket medical costs. March 18, 2012 Kicked Off with an Auction & Dinner at El Charro Restaurant.
Judd Kazuto Fulton Scholarship Fund
In 2004 Judd died in a tragic car accident on his way back to college. Now, each May teams meet at Boomerang Golf Course to support this Memorial Scholarship Golf Tournament. Judd worked for us the summer before he passed away & it has been an honor to support his Scholarship Fund.