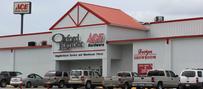 Oxford Ace Hardware
1400 Barry St
Oxford, AL 36203
Phone: (256) 831-0540
Fax: (256) 831-3124
Email:
info@oxfordlumber.com
Mon - Fri 7:00 am - 6:00 pm
Sat 7:00 am - 5:00 pm
Sun Closed

Bill Newman
Owner
Danny Jones
Manager
Oxford Lumber was founded in 1958 by Charlie & Mildred Newman. Son Bill Newman is now president. Oxford Lumber Company, Inc. has stores in Oxford, Talladega, Roanoke,and Jacksonville. As your local Ace Hardware, our store is a member of the largest retailer-owned hardware cooperative in the industry. We are all committed to being "the Helpful Place" by offering our customers knowledgeable advice, helpful service and quality products. As the helpful hardware folks in your community, we promise that, "helping you is the most important thing we have to do today." Bill Newman says that our business is a "business all about relationships." The friendly, courteous and helpful service that Oxford Lumber has offered for almost 50 years is what has continued to make this organization successful.