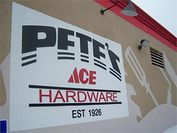 Pete's Ace Hardware
2569 Castro Valley Blvd
Castro Valley, CA 94546
Phone: (510) 581-7633
Fax: (510) 581-0344
Email:
peteshardware@peteshardware.com
Mon - Fri 7:00 am - 5:00 pm
Sat 8:00 am - 5:00 pm
Sun 8:30 am - 5:00 pm
Meet Our Staff Owner Manager
About This Store
For over 90 years, Pete's Hardware at 2569 Castro Valley Blvd. has been a fixture of Castro Valley, offering the very best in helpful advice and friendly service to their many customers. Founded in 1926 Pete's Hardware has been in the same location , although the original store was replaced in 1970 with the convenient store we know today. When Pete's Hardware opened its doors in October of 1926 the front half of the store was originally hardware and the back half was an auto painting shop. It was soon realized that both could not be done, so the auto painting business was given up to concentrate on selling hardware. In 1968 Pete's Hardware decided to join with other hardware dealers to strengthen their buying power by becoming a member of the ACE Hardware buying group. The philosophy of Pete's Hardware is the same today as it was when it's doors first opened in 1926- service and knowledge.
Featured Brands