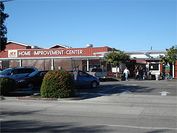 Santa Barbara Home Improvement Ctr
415 E Gutierrez St
Santa Barbara, CA 93101
Phone: (805) 963-7825
Email:
homer@sbhicace.com
Mon - Fri 7:45 am - 7:00 pm
Sat 8:00 am - 6:00 pm
Sun 8:30 am - 5:30 pm
Michael Owens
Manager

Gary Simpson
Owner
As your local Ace Hardware, the Santa Barbara Home Improvement Center is part of the largest retailer-owned hardware cooperative in the industry. Ace Hardware began as a small chain of stores in 1924 and has grown to include more than 4,400 stores in 50 states and more than 70 countries. As part of a cooperative, we are independently owned and have served the Santa Barbara community for over 50 years. We take pride in providing our customers exemplary service, as well as, offering thousands of high quality products all at competitive prices. As the helpful hardware folks in your community, we promise that, "helping you is the most important thing we have to do today." If you've never shopped in our store before, we hope you stop by and see what terrific things our store has to offer and if you are already a regular customer, we look forward to seeing you again soon!
BLACK+DECKER
Clark+Kensington
DEWALT
Henrys Tackle
Makita
Rubbermaid
STANLEY
Scotts
Traeger
Valspar
Weber
Werner
YETI
The Home Improvement Center donates thousands of dollars annually to our local Santa Barbara community. To request a donation, please come by our office at 415 E. Gutierrez St., Santa Barbara or give us a call at 805-963-7825.
Sales Associate and Cashier
Earn up to $15.00 an hour DOE. The following Departments are available: Garden, Lumber, Hardware, Plumbing/Electrical, Paint, Casual Living, & Cashiering.(call for actual Department openings). Great Benefits include: 75% company paid HMO Medical Insurance, Dental coverage, paid Vac., Hol., & Sick.

Contact: Tom Richards, 805-963-7825