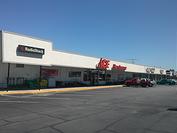 Hillside Ace Hardware
539 N Halleck St
Demotte, IN 46310
Phone: (219) 987-3171
Fax: (219) 987-3199
Email:
hillsideace@netnitco.net
Mon - Fri 8:00 am - 6:00 pm
Sat 8:00 am - 5:00 pm
Sun Closed

Ron Cates
Manager

Tim Schultz
Owner

Jill L
Secretary
Hillside Ace Hardware was opened by Gilbert Schultz in 1960. Since then the Business has expanded 5 times and moved once to it's present location. DeMotte Ace is now ran and owned by Tim Schultz and Ron Cates. The store prides itself on its impressive customer service and its associates that are eager to help you in what ever your job is today! Our shelves are lined deep with what you need to get your task completed. Come in today and be impressed with how well we can help you. As your local Ace Hardware, our store is a member of the largest retailer-owned hardware cooperative in the industry. As part of a cooperative, every Ace Hardware store is independently owned. From neighborhood hardware stores to lumberyards to super-size home centers, each Ace Hardware is unique and tailored to meet the needs of its local community.
Agro-Chem
Amy Howard
BLACK+DECKER
Banjo
Carhartt
Carhartt
Clark+Kensington
Clark+Kensington
DEWALT
FRONTLINE
RadioShack
Rich N Tone Duck Calls
Scotts
Tingley Rainwear
Valspar
Weber
Werner
Sponsor for little league teams in DeMotte and Wheatfield.
Yearly sponsor for the Cancer Relay for Life
Ace Hardware of DeMotte supports Autism Speaks. Autism Speaks is dedicated to facilitaing global research into causes, treatments and prevention of autism.
KV High School Magnificent Mile Walk
Ace Hardware of DeMotte helps support the walk which rasies funds for special needs kids at KV High School.
Cashiers exemplify the foundation of our service to each customer as they enter and leave the store. Every job within Ace ultimately impacts the customer directly or indirectly. Customers are the reason we are here; without them we wouldn't be.
Sales associates are responsible providing legendary customer service. They offer the solutions to the customers needs. Every Ace team member is expected to pledge to keep the customer first and foremost regardless of his or her job.