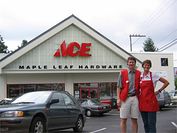 Maple Leaf Hardware
9000 Roosevelt Way NE
Seattle, WA 98115
Phone: (206) 522-3324
Email:
goodhelp@mapleleaface.com
Mon - Fri 8:00 am - 7:00 pm
Sat 8:00 am - 7:00 pm
Sun 9:00 am - 6:00 pm

Mike, Kathy, & Joe
Owner

Ralph
Manager

Leon
Inventory Manager

John
Floor Manager 1

Andrea
Floor Manager 2

Tim
Floor Manager 3
We have been a locally owned hardware store in North Seattle for 68 years. Owned by Tom and Karen Stephenson and now by Kathy Stephenson and Mike Kelley, Maple Leaf Ace Hardware continues to offer friendly and knowledgable service, great values,and quality products. We work hard every day to show our customers that Maple Leaf Ace is the place for real hardware and really great service!
Ace Brand Paint
Black+Decker
Cedar Grove Garden Products
Clark+Kensington
Craftsman
DEWALT
Ed Hume Seeds
Good Grips and Zyliss Kitchen
Koko and Leanin Tree Cards
Mrs Meyers Cleaning Products
Pre de Provence Soaps & lotion
Root and Big Dipper Candles
Rubbermaid
Scotts
Valspar
Whitney Farms Garden Products
Yeti
Every Thursday everyone 65 and over gets a 10% discount! Some restrictions do apply.
Are you a business owner? Bring us your UBI number issued by the State of Washington and we will set you up with a UBI account. This is easy to do and earns you 10% off nearly all your purchases here at Maple Leaf ACE Hardware. More details at counter...
Typical point of sale retail duties. Very active and important role for the store. You help the most customers.

Contact: Mike Kelley, 2065223324
Typical cleaning, loading, organizing inventory, assisting with projects, etc.

Contact: Mike Kelley, 2065223324
Tuesday and Friday mornings only from 7am to early afternoon. Responsible for accurately unloading our truck to our shelves.

Contact: Mike Kelley, 2065223324
As a sales clerk you will kindly interview customers to identify their agenda and create solutions with our products.

Contact: Mike Kelley, 2065223324