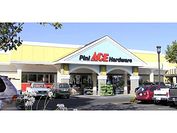 Pini Ace Hardware
1535 S Novato Blvd Ste A
Novato, CA 94947
Phone: (415) 892-1577
Email:
askpini@piniacehardware.com
Mon - Fri 8:00 am - 5:30 pm
Sat 8:00 am - 5:30 pm
Sun 9:00 am - 5:00 pm
Russell, Chip, David, and Tom Young
Owner Brian Avedano
Manager
Henry Pini immigrated from Switzerland in 1906, and opened his first grocery store in Novato in 1917,where he sold dry goods along with produce that he and his wife raised on their land. In 1923, Pini's moved, and expanded the variety of items sold to include hay, grain, feed, coal, clothes, hardware, groceries, fresh meat, chickens, and eggs. In 1929, Pini constructed a larger more modern store. Pini Hardware became one of the largest employers in Novato. In 1942, Henry Pini died and his widow sold the business and rights to use the Pini name to three local businessmen. A huge fire destroyed the store but it was resurrected in 1945, donning the famous neon hammer sign. In 1968, the Young and Saunders families purchased the store, selling it to their children in 1983. In 2004, Pini Ace Hardware moved into a much larger space with plenty of parking. The increased size allows for more merchandise and greater customer service. In 2015, the Young family became sole owners of Pini's.