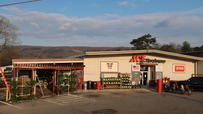 Ace Hardware of Flintstone
2846 Chattanooga Valley Rd
Flintstone, GA 30725
Phone: (706) 820-1334
Email:
info@keithsace.com
Mon - Fri 8:00 am - 7:00 pm
Sat 8:00 am - 7:00 pm
Sun Closed

Alex Bryant
Manager Adam & Alecia Keith
Owner
Ace Hardware of Flintstone,Ga., started by Melvin and Eloise Keith, has been a fixture of the community since 1948. It was known as Georgia Supply Co. and on it's first day of business sales totaled a whopping $3.95! Through the years there have been lots of changes but one thing has remained constant, the family's dedication to customer service. Melvin and Eloise raised their son, Mike, in the hardware store and he cut his teeth on pipe, lumber, nails, and whatever else he could chew on! In 1990 Mike and his wife Tena took over the business. For the following 20 years, they worked hard to keep up with changing times in the hardware industry. They raised their son, Adam, in the hardware store and we can't tell you what he cut his teeth on! In 2010, Mike & Tena retired and sold the store to Adam who opened a 2nd store in Dalton, Ga. in 2016. Now, after almost 70 years, he and his wife Alecia are now raising the 4th generation in their stores.