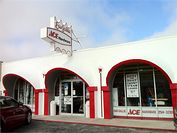 Eau Gallie Ace Hardware
590 W Eau Gallie Blvd
Melbourne, FL 32935
Phone: (321) 254-3261
Fax: (321) 254-0332
Email:
eaugallieace@yahoo.com
Mon - Fri 7:30 am - 6:30 pm
Sat 8:00 am - 6:00 pm
Sun 10:00 am - 4:00 pm

George Alexander
Owner Manager
Eau Gallie Hardware originally opened in 1959. In 1965, the business relocated across the street to its current location. In 1972, Eau Gallie Hardware joined the largest retailer-owned hardware cooperative in the industry; Ace Hardware. As your local family owned and operated hardware store, we strive to meet the needs of our community. In 1995, the current owner George purchased the business from his parents. Still today, you can always find George and his family on the sales floor daily. We continue to concentrate on being a unique and tailored hardware store to meet all of your personal hardware needs. When you stop in you can be sure George or his knowledgeable staff are there to greet you and help you with any of hardware needs. We are truly committed to being your local Helpful Place by offering our customers knowledgeable advice, helpful service, and quality products.
Advantage Flea and Tick
Advantix Flea and Tick
Amsoil
Ball Mason Canning Jars
Black+Decker
Calcutta Polorized Sunglasses
Clark+Kensington
Craftsman
DEWALT
Fastening Specialist
Frontline Flea and Tick
Geoff Bodine FRENZY Car Wax
Leaning Tree Cards
Rubbermaid
STIHL
Scotts
TRU Pickles
Valspar
Weber
Werner