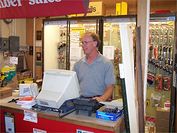 Fairfax Lumber Company
109 Broadway Blvd
Fairfax, CA 94930
Phone: (415) 453-4410
Fax: (415) 453-6255
Email:
mail@fairfaxlumber.com
Mon - Fri 7:30 am - 6:00 pm
Sat 8:30 am - 5:00 pm
Sun 8:30 am - 5:00 pm 100% Employee Owned
Owner Charlie Cain
Manager
Since 1912 Fairfax Lumber & Hardware has been providing Marin County and surrounding areas with quality building materials and help. Today we are 100% employee owned and have become Marin's leading expert and provider of nature friendly products for its building and improvement needs. Please visit us at www.fairfaxlumber.com and www.fairfaxgreen.com. Fairfax Green is our program to provide nature friendly products and information to our customers. Fairfax Green is the convergence of four goals - conservation of natural resources, increased energy efficiency, improved indoor air quality, and the reduction of toxins in our environment.