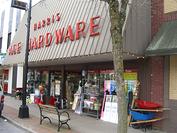 Harris Hdwe & Farm Supply
87 W Main St
Brevard, NC 28712
Phone: (828) 883-2103
Email:
harrishardware@citcom.net
Mon - Fri 7:00 am - 5:30 pm
Sat 7:00 am - 5:30 pm
Sun Closed Ron Lytle, Seth Batchelder
Manager Jimmy Harris
Owner
Purchased by Mabry Harris on October 7, 1972 from owner Bill Francis who operated "Francis & Wright Feed and Seed". The reputation for spectacular service and expansive inventory began then. It is often said "If Harris Hardware doesn't have it you don't need it"! Having a Main Street presence and large back parking lot has made Harris Hardware THE hometown hardware store. It has always been a family involved business. Growing up in the business as a child, Jimmy became actively involved in the day to day operations of the business in 1988. Harris Hardware has continued to grow in sales, inventory levels, advertising, services and most importantly customer loyalty. "Every day I have the opportunity to meet the most important people; my customers!" is the managment mindset at this family owned and operated business. Celebrating its 47th anniversary is a milestone for the Harris Family as it commits to continue the high performance customer service!