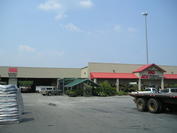 Hill's Ace Hardware & Lumber Center
275 U S Hwy 78
Loganville, GA 30052
Phone: (770) 466-1991
Email:
askace@hillsace.com
Mon - Fri 7:00 am - 7:00 pm
Sat 7:00 am - 6:00 pm
Sun 11:00 am - 5:00 pm
mary
mary

Alex
Owner Tod Hatfield
Manager

keith
keith

mike
mike
paint
paint
Hill's Ace Hardware & Lumber is proud to be your hometown hardware and building supply. We trace our history to a farm-supply business begun by George W. Garner in Winder, Georgia in 1918. Mr. Garner's son-in-law, Robert A. Hill, purchased a small general mercantile business in 1947 and grew this into a diverse company selling tractors, redi-mix concrete and block as well as hardware and building supplies. Robert's son Bob, along with his wife Gwen, joined the business in 1971 and relocated the main store in Winder to its present day location on Athens Street. Hill's affiliated with Ace Hardware in 1972 and was recognized by Ace as one of the top three home center businesses in the county in 1996. In 1997, Bob and Gwen's son Alex joined the business and later became the 4th generation to lead the company. The store in Loganville was opened in 1999 and continues the Hill's tradition of providing legendary service for the hardware and building supply needs of our communities.