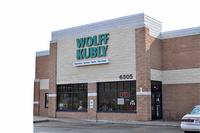 Wolff Kubly Middleton Ace
6305 University Ave
Middleton, WI 53562
Phone: (608) 238-0251
Fax: (608) 238-2506
Email:
wolffkubly@gmail.com
Mon - Fri 8:00 am - 6:00 pm
Sat 8:00 am - 6:00 pm
Sun 10:00 am - 5:00 pm
Meet Our Staff
Stan Vovos
Owner

Scott Getz
Manager
About This Store
Wolff Kubly is a local family owned business that operates as Wolff Kubly Ace Hardware and Wolff Kubly Time Center, both in Middleton, Wisconsin. Wolff Kubly has a long history of providing dedicated award-winning customer service with the hardlines required to repair and keep your home and garden in top condition. We have a superb lineup of the top brands of housewares, hardware and garden supplies. Our Professional Time Centers feature 100's of clocks and watches while carrying one of the largest assortment in the Madison area of watch batteries and bands that can be replaced while you wait.
Featured Brands