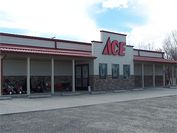 Columbus Ace Hardware
537 Clough Ave
Columbus, MT 59019
Phone: (406) 322-8551
Fax: (406) 322-5659
Email:
rhamilton0853@gmail.com
Mon - Fri 8:00 am - 6:00 pm
Sat 8:00 am - 6:00 pm
Sun 9:00 am - 5:00 pm
Meet Our Staff Rick, Marla, Justin, and Tyrel Hamilton
Owner Joe Huston
Manager
About This Store
As a memeber of your local area we strive to offer you the best in customer service and product avalability and knowledge. It started when we purchased the Hardware and Lumber yard in 1998. Since then we have been striving to improve the way we do business and satisfiy the needs of you, our Customers. We are now in our new building and are rapidly approching the completion of our second full year with the new store open. From all of us here at your local Ace Hardware we thank you for your business and look forward to servicing you the next time you find the need.
Featured Brands