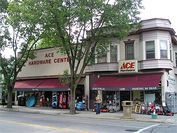 Ace Hardware Center
1398 Williamson St
Madison, WI 53703
Phone: (608) 257-1630
Email:
acewilly@tds.net
Mon - Fri 7:30 am - 5:30 pm
Sat 8:00 am - 5:00 pm
Sun 10:00 am - 4:00 pm Owner Manager
In business as a hardware store since 1923, Ace Hardware Center on Williamson St has been a staple in customer service throughout the generations. With a tangible flavor of the golden years still left in the hardwood floors and pressed tin ceilings, the owners and employees provide the best customer service around, the same like they used to make. Whether it is to get a key copied or seek advice on a home project, you can walk through the doors expecting a level of customer service not easily found anywhere else. Come in and check out our cozy paint department, our wide variety of hand tools and select power tools, our extensive plumbing and electrical areas, 2 aisles of housewares and cleaning supplies, and discover for yourself the variety and service that set the Ace Hardware Center apart.
3M
Ace Paint
BLACK+DECKER
Clark+Kensington
DEWALT
Rubbermaid
Toro
Weber
Thru December 5% of your Cookware purchases will be donated to Luke House Community Meal Program.