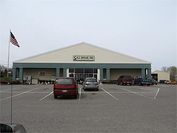 E.L. Spear, Inc. Lumber and Hdwe
10 Payne Ave
Rockland, ME 04841
Phone: (207) 594-4331
Email:
service@elspearinc.com
Mon - Fri 7:00 am - 5:00 pm
Sat 8:00 am - 2:00 pm
Sun Closed

Everett III and Lincoln Spear
Owner Manager
E.L. Spear, a family owned business, brings over 100 years of experience and expertise to those who build in Mid-Coast Maine. We partner with ACE to be able to offer a variety of hardware, tools, paint, electrical and plumbing materials, housewares and more at fair price to the community. We are committed to being "the Helpful Place" providing the best in quality, service and value.