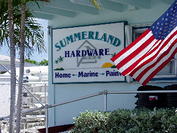 Summerland Ace Hardware
24734 Overseas Hwy
Summerland Key, FL 33042
Phone: (305) 745-3500
Fax: (305) 745-4273
Email:
summerlandhardware@gmail.com
Mon - Fri 7:30 am - 6:00 pm
Sat 7:30 am - 6:00 pm
Sun 8:30 am - 3:00 pm Jerry Cleven/Jeff Price
Owner Manager
Summerland Ace Hardware is a proud member of the Ace Hardware co-operative, teaming us with over 5,100 like-minded independent hardware retailers world wide. With over 60,000 different items at our access, we are able to fill most any need or want you may have. Being an Ace member also affords you access to acehardware.com. Where you can shop everything Ace has to offer, order online and pick it up at our store direct from our inventory, same day, or in a couple days from the warehouse, freight free. We feature Ace Royal, Clark and Kensington, and Valspar paints, tested to be some of the best quality paints on the planet. We also are a stocking retailer for Land-n-Sea and Donovan Marine, giving us a full line of marine specific supplies. You will also find our stainless steel hardware selection the very best around.
Amy Howard
BLACK+DECKER
Clark+Kensington
DEWALT
Rubbermaid
Scotts
Valspar
Weber