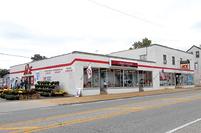 Home Brite Ace Hardware
400 N Illinois St
Belleville, IL 62220
Phone: (618) 233-4466
Fax: (618) 233-4534
Email:
jrowd1@aceretailer.com
Mon - Fri 7:30 am - 7:00 pm
Sat 8:00 am - 6:00 pm
Sun 9:00 am - 5:00 pm
Meet Our Staff

Dave Womble
Manager

Lyle Rowden
Owner
About This Store
In 1941, Arthur and Lillian Reinbold, opened their hardware store, Home-Brite Company, on North Illinois Street. After a few years of operating in the business that now houses the Belleville Barber College, the Reinbolds decided to move their company across the street to 400 North Illinois Street, where it continues to operate today. Lyle Rowden, the Reinbold's grandson, started to work at the store in 1976. In 1986, Arthur Reinbold passed away and Rowden found himself in charge of the business. Also in 1986, Rowden began the process of turning Home-Brite into an Ace Hardware franchise. This year, Home-Brite Ace Hardware will embark on it's 78th year in business; a true sign of their dedication to continuing to serve the Belleville community. Home-Brite Ace is committed to being "the Helpful Place" by offering it's customers knowledgeable advice, helpful service and quality products.
Featured Brands