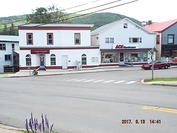 Railroad Ave Sply Co Inc
5 Railroad Ave
Stamford, NY 12167
Phone: (607) 652-7103
Fax: (607) 652-4063
Email:
rasco852@yahoo.com
Mon - Fri 8:00 am - 6:00 pm
Sat 8:00 am - 4:00 pm
Sun 9:00 am - 1:00 pm

Ralph
Owner Ralph Beisler
Manager
Railroad Avenue Supply Co., Inc., has been owned by the Beisler family for over 50 years. Purchased by Henry and Dorothy Beisler in 1963 as an existing Western Auto Store, the store has grown and adapted to meet the needs of the Stamford area. When Henry Beisler died in 1975, his son Ralph and Ralph's wife Susan took over. In 1987 they joined Ace Hardware and quickly added Ace products to their merchandise selection. Ace Paint was added in 1988 and quickly became the leading department. In 1995 the building next door was purchased and the store expanded into it. Ten years later, the store was completely remodeled again and reset. This remodel included new flooring, a new ceiling and improved lighting. In 2007 the store achieved Vision 21 status and added Ace Rewards. We now have over 3000 Ace Rewards customers. In 2013 we have again remodeled much of the store. Stop in to see our new look and shop our monthly Red Hot Buys!