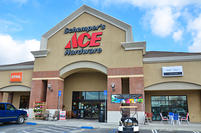 Schemper's Ace Hardware
150 N Wilma Ave
Ripon, CA 95366
Phone: (209) 599-2141
Fax: (209) 599-6540
Email:
info@schempersace.com
Mon - Fri 7:00 am - 7:00 pm
Sat 7:00 am - 6:00 pm
Sun Closed
Meet Our Staff

Ward Schemper
Owner Bud Schemper
Manager

Bud Schemper
Manager/Owner

Our Helpful Staff
Our Helpful Staff
About This Store
As your local Ace Hardware, our store is a member of the largest retailer-owned hardware cooperative in the industry. Ace Hardware began as a small chain of stores in 1924 and has grown to include more than 4,300 stores in 50 states and more than 70 countries. As part of a cooperative, every Ace Hardware store is independently owned. Schemper's Ace Hardware was founded in 1954. It is still a family owned company. We joined the Ace family in 1977. Over the last 60+ years a lot of growth and changes have taken place, but the philosophy of our founding fathers remains steadfast. We continue to earn our customers' business and trust through honesty in all of our transactions. Customer service is held in the highest regard while providing an enjoyable place to work and treating our staff fairly in all areas of employment. Ace, the Helpful Place.
Featured Brands