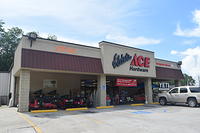 Elder's Ace Hardware-East Rome
1804 Turner Mccall Blvd SW
Rome, GA 30161
Phone: (706) 291-1939
Fax: (706) 291-2072
Email:
rome@eldershardware.com
Mon - Fri 8:00 am - 7:00 pm
Sat 8:00 am - 7:00 pm
Sun 12:00 pm - 6:00 pm

Dwayne Wheeler
Manager
Elder's Ace Hardware is a family owned, locally run group of 22 neighborhood hardware stores that serve the East Tennessee and North Georgia regions. We've been part of many of these communities since 1969, and we are honored to be your neighbors. Today, you can find us in Chattanooga on Hwy. 58, Brainerd, East Ridge, Red Bank, Dallas Bay, East Brainerd, Broad Street, Walden and Ooltewah; in Cleveland on Peerless Ave.; in North Georgia in Lafayette, Ringgold, Chickamauga, Trenton, and Rome; in Knoxville at Dixie Lee Junction, Halls, Bearden, South Knoxville, Rocky Hill, Townsend and Hardin Valley.