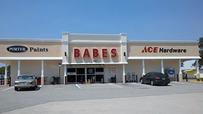 Babe's Hardware Inc
450 N Indiana Ave
Englewood, FL 34223
Phone: (941) 474-7550
Email:
bswink@aol.com
Mon - Fri 7:30 am - 5:30 pm
Sat 8:00 am - 4:00 pm
Sun Closed
Dave Pettit
Manager
Barbara and Billy Swink
Owner
Billy and Barb Swink, Stephanie Jennings
Owners
Babe's Ace Hardwarde is located in beautiful Englewood, FL. The store was founded in 1971 by Babe Dalton and is now owned and operated by his daughter, Barb Swink. We have been proud to be your local, family-owned hardware store for 42 years! Our store is a member of the largest retailer-owned hardware cooperative in the industry. Ace Hardware began as a small chain of stores in 1924 and has grown to include more than 4,600 stores in 50 states and more than 70 countries. As part of a cooperative, every Ace Hardware store is independently owned, unique, and tailored to meet the needs of its local community. The success of Ace Hardware was built on a foundation of helpful service, knowledgeable advice, and quality products. We believe these qualities are just as important today. We, at Babe's Ace Hardware - Englewood, are committed to being "The Helpful Hardware Folks" in your community. We promise that, "Helping you is the most important thing we have to do today." Come visit us today!