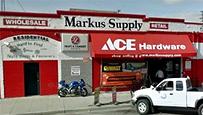 Markus Supply Ace Hardware
625 3rd St
Oakland, CA 94607
Phone: (510) 832-6532
Fax: (510) 832-6535
Email:
brian@markussupply.com
Mon - Fri 8:00 am - 5:30 pm
Sat 9:00 am - 5:00 pm
Sun 11:00 am - 4:30 pm Dan Altwarg
Owner

General Manager
Manager
Established in 1993, the Markus name has serving Oakland/Bay Area for decades since the 1920's. In 1950, C Markus Hardware and Home Center was the Bay Area's independent leader in supplying the area with hardware and great customer service. C Markus has been on the corner of 3rd street and Martin Luther King, since the 1950's. In 1993, the location moved across the street to where it is today. The store is still family owned after all these years. Dan is a 3rd generation Markus and our methods and business practices have not changed a bit. We are just as helpful and great as we have ever been to this day. Markus Supply Ace Hardware is unique and tailored to meet the needs of its local community. We are all committed to being "the Helpful Place" by offering our customers knowledgeable advice, helpful service and quality products. As the helpful hardware folks in your community, we promise that, "helping you is the most important thing we have to do today.