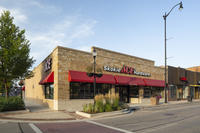 Skokie Ace Hardware
5035 Oakton St
Skokie, IL 60077
Phone: (847) 673-0700
Email:
skokie_acehardware@sbcglobal.net
Mon - Fri 7:30 am - 6:30 pm
Sat 7:30 am - 5:00 pm
Sun 9:00 am - 4:00 pm Paul McGivern
Owner Danny Ogoy
Manager
Skokie Ace Hardware has been an integral part of the Skokie community for more than 100 years! It is currently the oldest, continuously running business in Skokie and has been part of the Ace Hardware family since its inception. As the helpful hardware folks in your community, we promise that helping you is the most important thing we have to do today. COVID Report - We try hard each and every day to get products you need. But because of the pandemic, many of our suppliers were shut down. That's why the store looks so empty. Please know this: WE ARE NOT GOING OUT OF BUSINESS! Actually the opposite is true. We now excel at online sales and curbside pick-up. And as soon as our manufacturers get back up to speed we'll be full of product again. So please be patient and know that we are doing everything we can. Skokie Ace is The Place!!