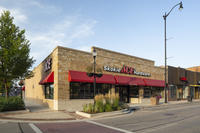 Skokie Ace Hardware
5035 Oakton St
Skokie, IL 60077
Phone: (847) 673-0700
Fax: (847) 673-3166
Email:
skokie_acehardware@sbcglobal.net
Mon - Fri 7:30 am - 6:30 pm
Sat 7:30 am - 5:00 pm
Sun 9:00 am - 4:00 pm Paul McGivern
Owner Mark Schoenwolf
Manager
Skokie Ace Hardware has been an integral part of the Skokie community for more than 100 years! It is currently the oldest, continuously running business in Skokie and has been part of the Ace Hardware family since its inception. Although every Ace Hardware store is independently owned, we are all committed to being "the Helpful Place" by offering our customers knowledgeable advice, helpful service and quality products. As the helpful hardware folks in your community, we promise that helping you is the most important thing we have to do today.