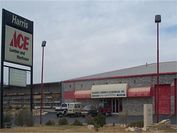 Harris Lumber & Hardware Inc
1515 E Fm 700
Big Spring, TX 79720
Phone: (432) 267-6355
Fax: (432) 267-3617
Email:
hlh@suddenlinkmail.com
Mon - Fri 7:30 am - 6:00 pm
Sat 7:30 am - 6:00 pm
Sun Closed Steve Herren
Owner manuel marquez
Manager
Harris Lumber & Hardware was organized November 17, 1965 by Bert Harris, Don Smith and Don McKee with each owning a third of the buisness. As the years passed the business continued to grow inspite of all the odds. On June 1, 1972 Bert Harris bought the shares of the other stock holders & became the sole owner of the corporation. Over the years there were many expansions to the building & in the spring of 1988 a new location was aquired and the present building was erected. In March of 2002 Steve and Gay Herren, Bert's son-in-law & daughter, bought out the remaining stock of Harris Lumber due to the passing of Bert Harris in August of 2000. After Steve became sole owner of the company he added on a new warehouse expansion of his own. He also has plans to remodel the existing building & to also expand the inside of the store within the next few years. We look forward to the future to serve our past, present and future customers. WE'VE BEEN HERE-WE'LL BE HERE!!