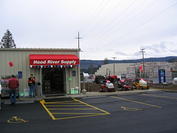 Odell-Hood River Supply
3831 Eagle Loop
Hood River, OR 97031
Phone: (541) 354-3000
Fax: (541) 354-3001
Email:
davew@hrsupply.com
Mon - Fri 7:30 am - 5:00 pm
Sat 7:30 am - 5:00 pm
Sun Closed
Hood River Supply Assn
Owner Dave Wood
Manager
Hood River Supply has always had a presence in Odell, from our founders to store rental to a new store in 2005. Our commitment to serving the orchards, farms, vineyards, loggers, and upper valley businesses has always been a priority and we will continue to maintain a presence in the Odell area. Originally Hood River Supply rented a building in 1994 to serve the region. For about 10 years Hood River Supply-Odell focused on the retail of the orchard chemicals, but due to low profit margins and regulations we decided to forgo those attempts and convert specifically to a retail branch Odell Construction In 2005, with the rental lease coming to an end, the board decided to build a new store; doubling the square footage and inventory. We broke ground on June 1st, 2005 and opened the doors October 14th, 2005 with only a two week down time. The store is run by 4 employees: manager, two cashiers, and one warehouse worker. In addition, our cycle counters and general manager share duties.
BLACK+DECKER
Clark+Kensington
Craftsman
DEWALT
Rubbermaid
Scotts
Valspar
Weber