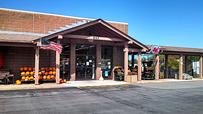 R&R Ace
845 N Commercial Ave
Saint Clair, MO 63077
Phone: (636) 629-4300
Email:
rnrace5531@gmail.com
Mon - Fri 7:30 am - 7:00 pm
Sat 8:00 am - 6:00 pm
Sun 10:00 am - 4:00 pm
GENELLE
OFFICE MANAGER
TOM AND PATTI
Owner

GREG & LUKE
Manager

R&R FAMILY
R&R FAMILY
In 1932, W.R. (Roy) and Rita Parks started a small variety store to help offset the hardships of the Great Depression. Since then, R&R has grown from a 400 sq/ft store into the current two story, 28,000 sq/ft building. W.R. and Rita's son, Paul, returned to the store from the Marines in 1946. What started out as a dime store quickly became much more, selling items from clothing to stationary to greeting cards. The third generation joined the store; Tom in 1974 and sister Patti in 1985. The ACE name was added in 1979. Tom's son Jordan returned to the store in 2015, and his daughter Paige in 2018, as the 4th generation. Primarily a hardware store now, R&R supplies customers with services like key cutting and screen repair, and also filling helium balloon orders and gift wrapping. A greenhouse and courtyard give customers a wide choice of plants during the spring. Always changing and updating, R&R strives to meet each customers' needs. R&R ACE truly is so much more than a hardware store.