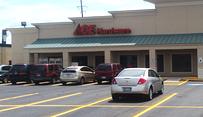 Hamilton Hardware Co
5230 Highway 6 N
Houston, TX 77084
Phone: (281) 463-8681
Email:
helpfulace@yahoo.com
Mon - Fri 8:00 am - 7:00 pm
Sat 8:00 am - 6:00 pm
Sun 10:00 am - 5:00 pm Tom and Wandy Brown
Owner Lynda Vass & Rocky Cooper
Manager
Hamilton Hardware has been serving the Bear Creek, Glencairn, Copperfield areas since 1976. We thank our loyal customers who have kept us a part of the community for over 30 years. As your local Ace Hardware, our store is a member of the largest retailer-owned hardware cooperative in the industry. Ace Hardware began as a small chain of stores in 1924 and has grown to include more than 4,600 stores in 50 states and more than 70 countries. As part of a cooperative, every Ace Hardware store is independently owned. From neighborhood hardware stores to lumberyards to super-size home centers, each Ace Hardware is unique and tailored to meet the needs of its local community. We are all committed to being "the Helpful Place" by offering our customers knowledgeable advice, helpful service and quality products. As the helpful hardware folks in your community, we promise that, "helping you is the most important thing we have to do today."
Amy Howard
BLACK+DECKER
Big Green Egg
Clark+Kensington
Craftsman
DEWALT
Magnolia Home Paints
MicroLife Organic Fertilizers
Nitro Phos Fertilizers
Scotts
Traeger
Valspar
WEBER GRILLS
Weber
SALES ASSOCIATE

Contact: Tom, 281-463-8681