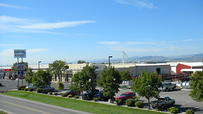 Poudre Valley Coop
225 NW Frontage Rd
Fort Collins, CO 80524
Phone: (970) 221-5300
Fax: (970) 493-5827
Email:
rmoore@pvcoop.com
Mon - Fri 7:00 am - 6:00 pm
Sat 7:00 am - 4:00 pm
Sun Closed
At Poudre Valley Coop we are proud to have been a fixture in the community since 1947. Our Ace Hardware division strives to meet the needs of our diverse customer base. Whether you need that single elusive bolt to finish a project or every last thing to keep your home functional and looking beautiful; from premium Ace paints to grass seed and fertilizer. We are always happy to meet our new neighbors as well as greet old friends, so stop by for a free cup of coffee and complimentary popcorn as well as all of your hardware needs!