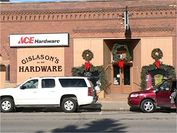 Gislason Ace Hardware
106 E 1st St
Minneota, MN 56264
Phone: (507) 872-6472
Fax: (507) 872-6118
Email:
barb_rye@hotmail.com
Mon - Fri 7:30 am - 5:30 pm
Sat 7:30 am - 4:00 pm
Sun Closed Barb Rye & Dave Fahey
Owner Dave Fahey
Manager
Gislason Ace Hardware is a 4th generation Hardware Store. This store has seen a lot of items. From International tractors to women's clothing. And of course many hardware items. The latest being a Women's boutique nestled in the front corner of our store. We call it The Arched Door. Men can shop for tools while women shop for clothes, and meet in the middle at the check out.