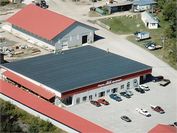 Perras Ace Inc
31 Perras Rd
Lancaster, NH 03584
Phone: (603) 636-1391
Fax: (603) 636-1405
Email:
louise@perrasace.com
Mon - Fri 7:00 am - 5:00 pm
Sat 7:00 am - 5:00 pm
Sun 8:00 am - 5:00 pm Louise Collins & Susie Batchelder
Owner Louise Collins
Manager
Perras Lumber was founded in 1974 by Real and Alice Perras. It is located in Northumberland, NH. In 1980, the Perras family decided to expand its sawmill operation by opening a retail lumber yard including an Ace Hardware franchise. Perras Lumber was the first Ace Hardware to open its doors in New Hampshire. In 2001 Perras ACE Inc. and Perras Lumber became separate companies. Perras ACE deals in hardware and retail lumber. Perras Lumber deals in wholesale lumber and pallets, as well as trucking.Perras Ace Hardware supplies the North Country with a wide variety of hardware, building materials, windows, doors, kitchen cabinets, plumbing, electrical supplies, insulation, and lumber. We are open seven days a week for your shopping convenience and offer monthly specials. We have a wide variety of Makita tools, Ace paint, Cabot exterior stains, Minwax and Ace interior stains, and much more in product lines.
Clark+Kensington
DEWALT
Scotts
Sikkens
Weber