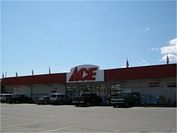 Ag Supply Ace Hardware
220 Grant Rd
East Wenatchee, WA 98802
Phone: (509) 884-6647
Fax: (509) 884-7257
Email:
fangel@ag-supply.net
Mon - Fri 7:00 am - 8:00 pm
Sat 7:00 am - 8:00 pm
Sun 8:00 am - 5:00 pm Ag Supply Co. of Wenatchee
Owner Fredy Angel
Manager
Our Co-op was established by local Wheat farmers and Orchardists on September 19, 1933. Over the last 83 years Ag Supply Company has consistently met the needs of our community. Our services currently fall into two categories: Petroleum/Propane Delivery, and retail Hardware stores. We operate out of Wenatchee as Ag Supply Hardware, Petroleum, Propane, Feed and we operate Ag Supply Ace Hardware stores located in East Wenatchee, Quincy, Ephrata, Moses Lake, Brewster, Sultan, Puyallup and Bremerton.
BLACK+DECKER
Clark+Kensington
Craftsman
DEWALT
Rubbermaid
Scotts
Toro
Traeger
Valspar
Weber
Werner
YETI
Cashiers exemplify the foundation of our service to each customer as they enter and leave the store. Every job within Ace ultimately impacts the customer directly or indirectly. Customers are the reason we are here; without them we wouldn't be.

Contact: ag-supply.net, ag-supply.net
Customer Service Associate
Please visit our website to apply!

Contact: ag-supply.net, ag-supply.net