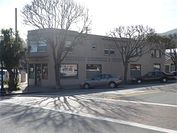 Brisbane Hardware & Sply Inc
1 Visitacion Ave
Brisbane, CA 94005
Phone: (415) 467-2707
Email:
brisbanehardware@gmail.com
Mon 9:00am - 4:00pm
Tues 9:00am - 4:00pm
Wed 9:00am - 4:00pm
Thurs 9:00am - 4:00pm
Fri 8:00am - 4:00pm
Sat Closed
Sun Closed Owner Bill DelChiaro
Manager
What is Brisbane Hardware? A family owned and operated personal Hardware store since 1963. The Del Chiaro family opened their doors in November of 1963. Bill Del Chiaro, senior along side with his wife, Lillian operated a business of the highest standard. Later to succeed with the continuing of family operations was the next two generations of Bill Del Chiaro's. Currently, Bills Grandson is the merchant who is keeping the traditions of family owned and operated a continues legacy. Bill is operating business Monday through Saturday, and is hands on daily in the store. Brisbane Hardware on Visitacion Ave has for years been an important store for local residents and craftsman. Service and fairness are the standards of which Brisbane Hardware operates on a daily basis. This vintage business ethic is a rare commodity in this day an age, and appreciated my all who know the Del Chiaro family. A business where people know and care about each other.