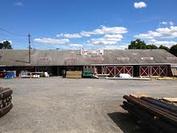 Seekamp Lumber Co
2551 Route 302
Middletown, NY 10941
Phone: (845) 361-2220
Fax: (845) 361-1559
Email:
info@seekamplumber.com
Mon - Fri 6:30 am - 5:00 pm
Sat 7:30 am - 2:00 pm
Sun Closed Owner Manager
Not your average Ace Hardware Store. We are a much more building supply focused branch. We specialize in mason supplies, hardwoods, lumber, millwork, plumbing, electric and more! All of your building supply needs. We do not stock all of the items that Ace Hardware sells. However, shipping from Acehardware.com to our store is free and we will call you when your item comes in.