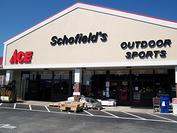 Schofield's
155 S Cashua Dr
Florence, SC 29501
Phone: (843) 669-6393
Curbside Phone: (843) 669-6393
Email:
schofieldinventorymanager@yahoo.com
Mon - Fri 7:30 am - 6:00 pm
Sat 8:00 am - 6:00 pm
Sun Closed
Meet Our Staff
Florence
Owner

Don Worrell
Manager

Shane Harper
Inventory Manager

Michelle Johnson
Office Manager
About This Store
At Schofield's during 2018, we celebrated 100 years as a historic legacy store and landmark name for SELECTION, SERVICE, and SACREDNESS. * SELECTION: We offer one of the largest inventories of hardware, clothing, footwear, and sporting goods equipment in South Carolina. * SERVICE: We are known for our amazing customer service where smiles are free and every customer is a relationship we value. * SACREDNESS: We believe our sole reason for being in business is to glorify God in all we do as we seek to love Him and serve others. Today, Schofield's is committed to being "the ACE Helpful Place" by offering our customers personal service, quality products and a convenient shopping experience from the local experts who know you best. As the helpful hardware folks in your neighborhood, we promise that helping you is the most important thing we must do today.
Featured Brands