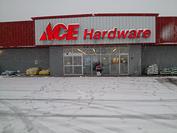 Carstens Ace Hardware Inc
400 East Ann St
Kaukauna, WI 54130
Phone: (920) 766-7773
Fax: (920) 766-3999
Email:
drewc@carstensace.com
Mon - Fri 7:30am - 7:00pm
Sat 7:30am - 5:00pm
Sun 9:00am - 5:00pm Bill Carstens
Owner Drew Carstens
Manager
Carstens Ace Hardware has been rooted in Kaukauna since 1939. The store began as a barley shipping operation. From there it grew into a feed operation, supplying farmers in our local area. Carstens reformed it's customer base by offering feed, salt, and hardware in 1976. Ace Hardware became affiliated with Carstens over 25 years ago. This is when the store began to transform to more of a traditional hardware supplier. Carstens Ace Hardware moved to it's current location of 400 East Ann Street in 2000. This move helped the store to deliver a more satisfying customer experience. Not only did we gain more floor space to accomodate more product but it helped us to reach additional customers. The store currently supplies over 300 different businesses and over 6,000 Ace Rewards customers.