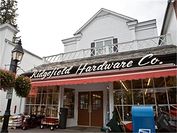 Ridgefield Hardware Co
385 Main St
Ridgefield, CT 06877
Phone: (203) 438-2661
Fax: (203) 431-9506
Email:
Ridgefieldhardware@yahoo.com
Mon - Fri 8:00 am - 4:00 pm
Sat 8:00 am - 4:00 pm
Sun 9:00 am - 1:00 pm Jerry Rabin
Owner Sarah Scott
Manager
Your neighbor and partner in home enhancement.D­oing it right! The Right Products! The Right Advice! Providing:exceptional Customer Service - every time you call or visit. We are concerned with your needs. Expert Advice - An exceptional team of associates with years of combined experience waiting to provide you with the information you need. If we cannot answer your questions to your satisfaction, we will guide you to your best source. Amazing Selection of Quality Products - if we do not have it, we will gladly order it for you! Ridgefield Hardware"Taking care of our people and giving back to our community." Ridgefield Hardware and its caring staff have been committed to contributing to and bettering our community for 70 years.