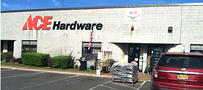 Costello's Ace Hardware of Deer Park
770-14 Grand Blvd
Deer Park, NY 11729
Phone: (631) 243-2220
Fax: (631) 243-2309
Email:
7504@costellosace.com
Mon - Fri 7:30 am - 5:00 pm
Sat 8:00 am - 2:00 pm
Sun Closed
Tim Condra
Manager
Costello's Ace Hardware
Owner
Costello's Ace Hardware was founded by Vincent "Vinnie" Costello in 1976 as a single hardware store, and has grown into one of the most iconic names in hardware with stores throughout Long Island, New Jersey, Maryland and N.Y. Costello's Ace Hardware is committed to serving its stores neighborhoods with world class service, the most sought after brands and the most knowledgeable store associates in the industry. Today, Vinnie's children carry on his legacy as leaders within the organization, further instilling his values-centered leadership. For more information on Costello's Ace visit www.costellosace.com.