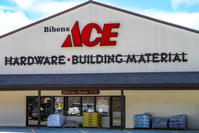 Bibens Ace Hardware-Springfield
362 River St
North Springfield, VT 05150
Phone: (802) 886-2288
Fax: (802) 886-2280
Email:
bibensace@bibens.com
Mon - Fri 7:00 am - 5:30 pm
Sat 7:00 am - 4:00 pm
Sun 9:00 am - 1:00 pm
Meet Our Staff Rick Bibens
Owner Brian Carter
Manager

Peter Torney
General Manager
About This Store
Bibens Home Center, the first Bibens Ace location, was founded in Springfield, VT in 1949 by Eric R. Bibens, a builder of fine homes. In 1972, he decided to expand the retail store to 6,500 sq. ft. and close the construction division. The store was a member of the Service Star Hardware co-op until 1982 when the current owner, Eric. R. Bibens II, purchased the business from his father and converted it to the Ace Hardware brand. In 1986, the original property was sold, re-opening in a newly constructed 18,000 sq. ft. building with 12,500 sq. ft. of retail space which remains in operation today. At our flagship location, we offer all departments of Ace Hardware, a kitchen showroom, lumber yard and building supply, our very own small engine shop, and a full-service UPS shipping center.
Featured Brands