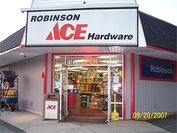 Robinson's Hardware
1874 Western Ave
Albany, NY 12203
Phone: (518) 456-7383
Fax: (518) 456-1443
Email:
robinsonshardware@yahoo.com
Mon - Fri 7:00 am - 8:00 pm
Sat 8:00 am - 6:00 pm
Sun 9:00 am - 5:00 pm
William Swartz III and Judd Robinson
Owner

Rob McDonnell
Manager
Bill Swartz & Judd Robinson
Owners
Robinson's ACE Hardware is a full-service convience hardware store, specializing in hard-to-find items. We started in 1958 with the original owners, Donald Robinson and Matthew Hennet. Mr. Hennet retired in 1979 and at that point brothers, Michael and Garry bought into the business. Donald Robinson retired in 1991 and Michael in 1994. Garry has owned the business solely untill 2010. His son, Judd and Store Manager William Swartz III became part owners at that time. Garry retired on June 1st, 2014, and handed over the business to Judd and Bill. We are a family business now for three generations. We pride ourselves in being the MOST knowledgeable and helpful people in the hardware business. We are a convenience store; people can park right outside our front door and get in and out quickly. You can't do that in the big-box stores. We do what they can't. We help our customers and guide them on their projects. We really do appreciate our customer's business.
Benjamin Moore
Clark+Kensington
Craftsman
DEWALT
National Hardware
STIHL
Scotts
Toro
UGL
Weber
Werner