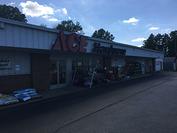 Ace Hardware
1905 Charlestown Rd
New Albany, IN 47150
Phone: (812) 945-6633
Email:
naind1@aceretailer.com
Mon - Fri 8:00 am - 7:00 pm
Sat 8:00 am - 6:00 pm
Sun 10:00 am - 4:00 pm Gary & JoAnn Staashelm
Owner Gary Staashelm
Manager
At New Albany's Ace Hardware, we are committed to being "the Helpful Place" by offering our customers knowledgeable advice, helpful service and quality products. As part of cooperative, every Ace Hardware store is independently owned. In 1936 Mr. Paul Lee opened a hardware business in New Albany in a garage behind Stemle's grocery (Little Tiger) at the corner of Vincennes and Charlestown Rd. Around 1946, Mr. Lee built a one story concrete block building at 1905 Charlestown Rd. and called it Eureka Hardware. A few years later he added a second story to the building and changed the name to Eureka Ace Hardware. In January 1985, Paul Staashelm, Sr. purchased the Ace Hardware store from Marie Lee (Paul Lee's widow). The two story building with steps to the second floor was not accessible to the disabled and was replaced with a new single floor building. Today, Paul's son - Gary Staashelm owns and manages the store.